Syringes have a vital role to play in the administration of parenteral therapies and in helping to ensure medication is sterile and free of contaminants. Prefilled glass syringes in particular offer the convenience of self-administration combined with increased dosing accuracy and safety.
But a key challenge to sensitive biotechnological or biologic drugs, especially proteins, is the potential presence of tungsten and tungsten oxides from the syringe forming process. On the production line, a tungsten pin is often used to form the distal cone of the syringe. The mechanical contact between the tungsten pin and the glass of the syringe at the very high working temperature required can lead to pin wear – resulting in the deposition of tungsten residues and the formation of tungsten oxides on the glass surface. At temperatures approaching 800°C, these oxides start to sublimate and deposit on the inner funnel cone.
Tungsten oxides comprise a wide range of molecules that can interact differently with biologic drugs, leading to protein unfolding or aggregation, loss of efficacy and unwanted immune reactions in patients, thus jeopardizing product quality and patient safety.
Containers with low levels of tungsten are available that leverage a modified manufacturing process such as additional mechanical washing and stricter tungsten control. Their use may allow a pharma company to select a singular syringe platform if future or other drug products in their portfolio are tungsten sensitive. But there is still the question of whether low-tungsten syringes are low enough, as different drugs have different tungsten sensitivities.
Unfortunately, directly testing tungsten compatibility is not so straightforward. There is no certified standard that includes all the tungsten oxides and other metal compounds formed during the manufacturing process, to help pharma companies select the proper container for their drug products.
Choosing the wrong container might compromise the stability of the drug product, this may not show up until after Phase 3 stability studies when the final container is used. Evaluating container-drug compatibility earlier in the drug formulation process minimizes patient risk and the risk of making last-minute changes. Formulation or container changes may result in repeat stability testing, which can significantly increase cost and time to market.
Chemical Analysis process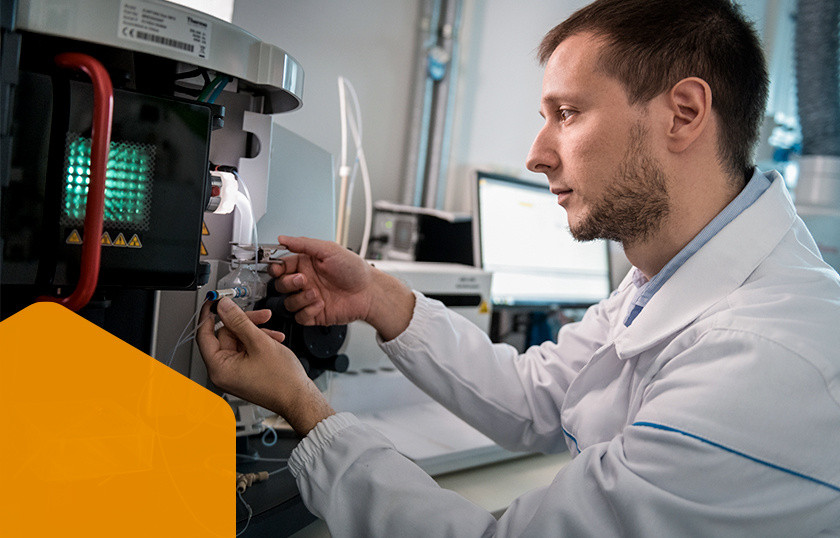 One way to test drug-container compatibility is by performing a study with samples spiked with a tungsten extract made from the manufacturing process. A spiking study in which the drug product is exposed to different known levels of tungsten can be performed to check if there is subsequent drug degradation, both at the start and over the shelf life of the product – such as through accelerated aging (where the product is stored at an elevated temperature) or real-time aging.
To help avoid problems right from the start, Stevanato Group's Technology Excellence Centers (SG TEC) in Boston, US, and Piombino Dese, Italy work in partnership with the company's glass manufacturing team to produce syringe samples with intentionally high amounts of tungsten. Water-based extracts can then be created, including the water-soluble chemical species from the glass syringe manufacturing, potentially interacting with drug molecules.
SG TEC can then characterize these extracts by Inductively Coupled Plasma-Mass Spectrometry (ICP-MS) for Tungsten and trace process elements – measured down to parts per billion. For elements from the glass, Inductively Coupled Plasma -  Optical Emission Spectrometry (ICP-OES) would be used to detect the higher concentration of typical glass extractable elements such as Aluminum, Boron, and Silicon. And finally, High-Performance Ion Chromatography (HPIC) can check the concentration of ions which may also interact with the drug product.
In addition to providing extracts for customers to spike their own drug samples and run stability studies, Stevanato Group has stability data on the extract, showing a long shelf life of more than two years. Spiked samples can also be sent back to the SG TEC to verify their final tungsten level.
Customers can evaluate a drug's behavior after spiking at different concentrations and after accelerated/real-time aging to see if there are changes – such as protein degradation/denaturation – which may result in loss of potency, increased toxicity, or even immunogenicity. Some of this protein degradation can be evaluated at SG TEC: micro-flow imaging can help identify protein aggregation, light obscuration can check overall increased particle counts, and visual inspection can help identify increased turbidity.
If there will ever be a use case involving a glass syringe, it is never too early to consider tungsten interactions for biologic/protein-based drug products.
Contact SG TEC for additional information on how we can help prepare and study drug-container interactions as soon as drug formulations are created to minimize the risk of costly changes and delays further down the line.