Production process, SG EZ-fill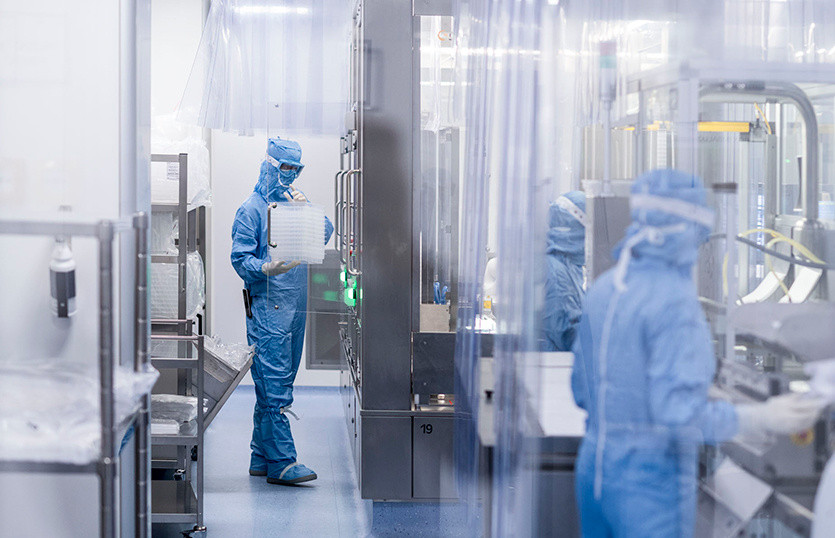 SG Steps is a rigorous system built on Stevanato Groups' business and industrial capabilities to address the demands of pharmaceutical customers with the same quality level globally. It is developed and validated according to the best practices in the pharmaceutical and industrial sectors.
SG Steps embodies our ambition to become the best in-class in our field, adopting automation, digitalization and quality as main drivers. It covers all the high value-added processes, empowering each employee with the right degree of choice and autonomy, providing greater accountability and ownership in their work.
SG Steps operates through structured collaboration, short-term and long-term capability assessments, providing operational insight and linking performance to process initiatives.
This system helps us to achieve our high-performance strategic and operational goals, sustain improvements, foster integration, create and maintain the ability to evolve, meet and exceed customer expectations, gaining competitive advantage.
SG Steps Program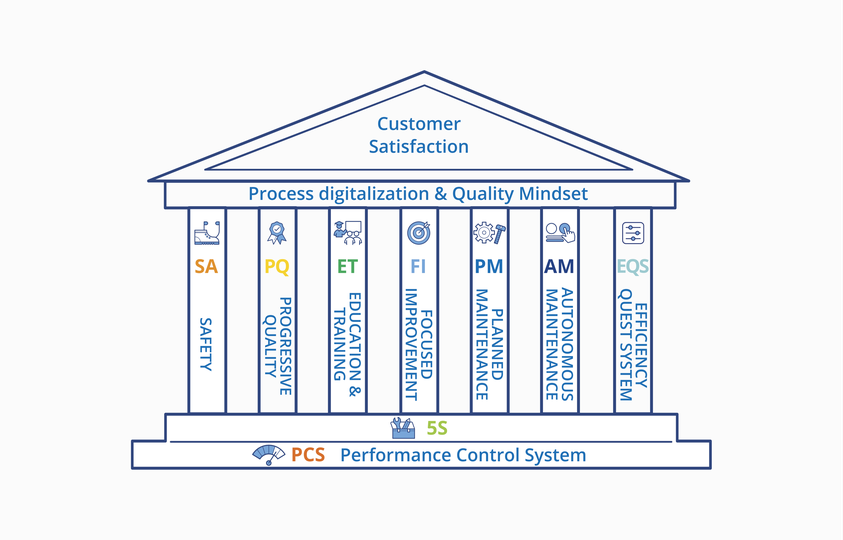 Methodology
SG Steps Program is developed in three phases, starting from the identification of safety priorities and the creation of a shared plan for continuous improvement - Foundation Phase - up to the implementation of safety standards and the achievement of behavior-driven safety culture - Advanced Phase.
The final Mastery Phase integrates safety with new product and process development.
The image of the temple represents all the elements involved in the process
2 Basements
Performance Control Systems
A set of KPIs for fast decision making, sustainable results and consistent quality in our products and services globally.
The 5S - Sort, Set in order, Shine, Standardize and Sustain
A methodology of workplace organization through the implementation, maintenance and improvement of separation, order and cleaning. It is the basis on which to build an effective system of managing the working environment.
7 Pillars
Safety
Ensuring a safe working environment by developing the zero-incident system and promoting correct behaviors at all levels
Focused Improvement
Contributing to the definition of the improvement strategy and developing the Factory Control System to ensure the continuous application of the achieved standard.
Efficiency Quest System
It involves corporate functions, providing the management with a structured method to share values and deliver results through their function.
Autonomous Maintenance
The aim is to increase production operators' awareness and skills in basic maintenance tasks in order to deliver tangible and sustainable improvements in equipment reliability.
Planned Maintenance
Its goal is to minimize unplanned stops and anomalies with an impact on the final product. The Planned Maintenance strategy is based on the opportunistic planning of technical interventions and the integration with the Autonomous Maintenance pillar.
Education & Training
Ensuring the development of skills and organization in accordance with the Group's continuous improvement strategy through the implementation of consistent and continuous training paths, a common evaluation system and periodical checks of training methods
Progressive Quality
We accompany our customers through the life-cycle of their products, setting up a self-sustaining standardized system that delivers the highest possible quality, anticipating their needs and ensuring end-user safety.