Learn more about some of our success stories
The key to our success is listening to your needs. At every step we support you with professional project management, a flexible approach and a strong commitment to deliver exactly what you ordered.
Biocen_vials_machine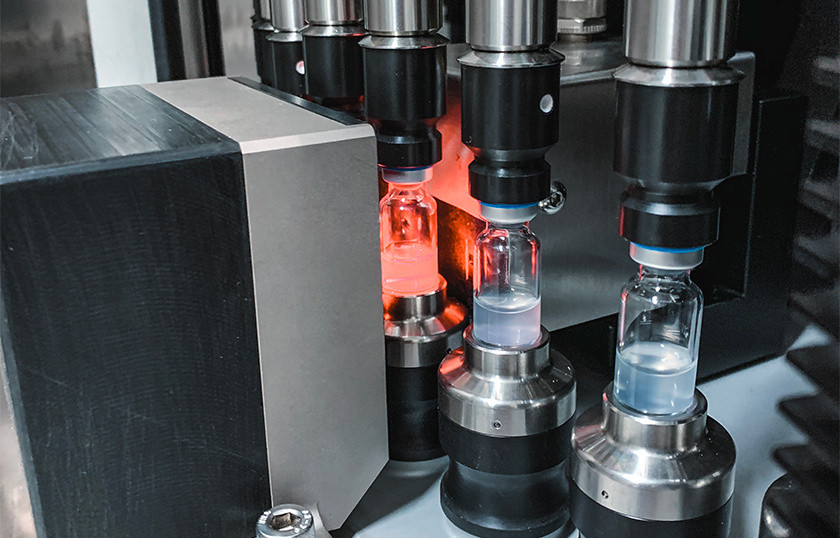 AVI machine for vaccines
Stevanato Group recently installed a second visual inspection system for a pharma company located in Central America, filling and finishing 2R vials with vaccines for children.
The challenge
Inspect a turbid suspension in containers filled with
low-volumes of drug product. The equipment needed to be capable of handling current and future production speeds while reducing false-rejection rates.
Discover here how we approached this case
The solution
By integrating our advanced trajectory algorithm for particles and line scan cameras to detect cosmetic defects, Stevanato Group was able to inspect containers at a mid-high speed (24,000 pieces per hour) while ensuring optimum product integrity.
Thanks to a turbidimeter, we were also able to measure the aluminium gel phosphate concentration, a stabilizer that preserves the vaccine shelf life. A quality element that has everything to do with the fundamental safety and efficacy of the company's vaccine.
CVT Syringes CVT Nest
High-speed syringe machines for vaccines
We supported a large pharma client by providing high-speed inspection equipment that could ensure product quality for HPV vaccines. The machines were installed in two different sites in the US and Ireland.
The challenge
The customer initiated a project to replace an ageing automated syringe inspection machine with a modern, customized solution. They listed several technical features in their "wishlist," including high-resolution cameras, the ability to record and save images during production batches and lower false-rejects. 
Discover how we approached this case
The solution
As a high-speed high-performance solution, Stevanato Group's CVT machine stood out for its mechanical design and inspection technology, capable of accommodating process variability. It offers individual servo drivers for advanced control of spin parameters, auto-recirculation, and the clip belt to minimize glass breakage events. Furthermore, the line scan technology used for particle and cosmetic defects, along with auto light regulations helped the pharma company in significantly decreasing the reject rate, with an overall yield increase of nearly 800,000 doses.
Combi Machine ampoules and lyophilized vials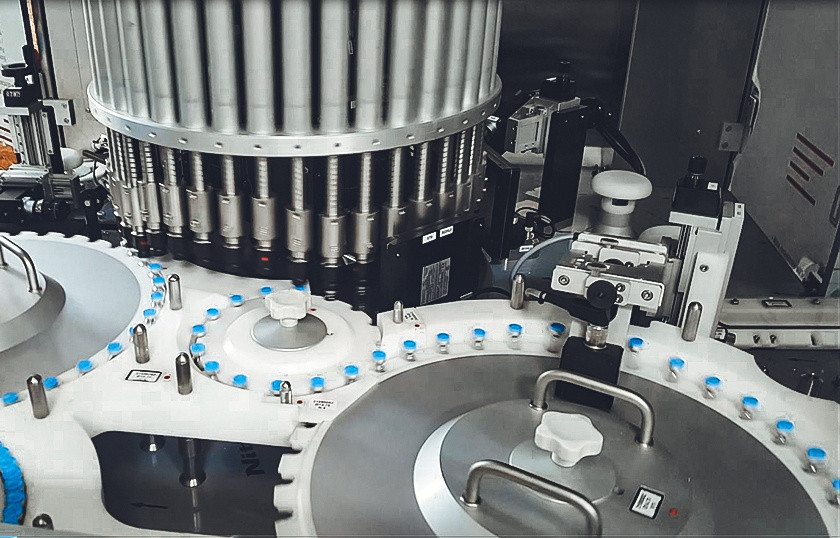 Combi Machine for liquid filled ampoules and lyophilized vials
For a leading pharma company operating in India, we delivered an automatic machine that could process ampoules with sodium chloride and vials containing a freeze-dried anti-rabies vaccine.
The challenge
We were asked to integrate a comprehensive set of controls for two different primary containers filled with two different drugs on the same machine. Part of the customer request included the desire to reduce the total cost of ownership and deliver high-end technologies that would ensure product quality and integrity.
Discover how we approached this case
The solution
Leveraging our expertise in illumination and imaging techniques, we could customize the Easy 400 LKD platform to perform advanced inspections. Depending on the selected recipe, the containers follow a dedicated path and several stations perform the appropriate controls, including:
For lyophilized vials – alu seal and flip off, crimping, cake inspection (lateral, top, bottom)
For liquid filled ampoules – tip integrity, shape and color ring verification, cosmetic side inspection, particle and filling inspection
Additionally, we were able to match the customer's request to implement leak detection systems; high voltage leak detection for the vaccine and headspace gas analysis for the freeze-dried product.
CVT Vials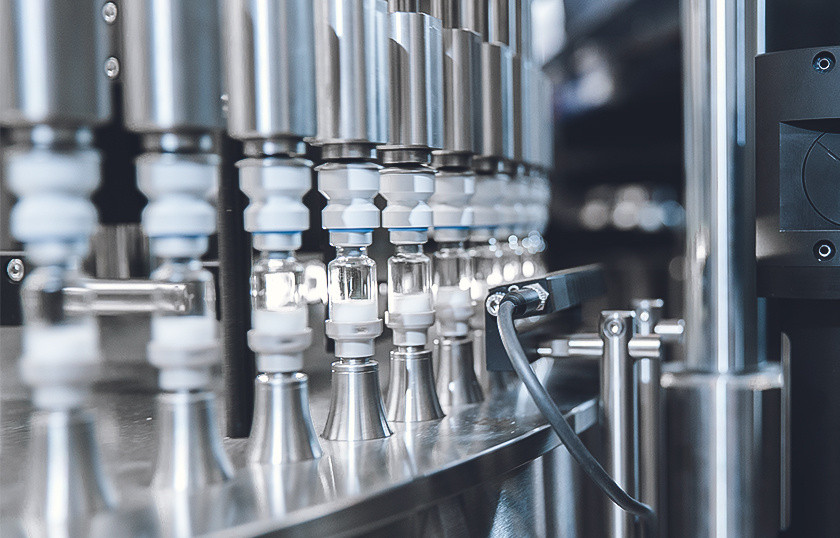 AVI vial machine for lyophilized drugs
A leading pharma company based in Europe engaged Stevanato Group to develop a best-in-class solution for inspecting all quality aspects of its lyophilized drug product with reduced false rejection rates.
The challenge
Although inspecting for known or probable defects in lyophilized drugs is challenging enough, the real challenge is avoiding falsely detected contamination in acceptable products due to variations of the product itself. Correctly lyophilized drugs present as cake and have variable characteristics in the container, including:
A cracked, shrunken mass, able to move around in the vial
Product as powder present on sides and bottom of the vial
Shiny surfaces on the cake
Significant freeze-drying at the edges
Discover how we approached this case
The solution
Through our extensive experience, Stevanato Group understood that lighting and image capturing techniques were the key to more accurate and precise automated inspection of lyophilized products. We were able to successfully:
Inspect for glass particles on top of the cake, embedded in the surface or hidden by product dust in the vial
Distinguish between variation and defects more accurately
Establish test sets that help the system learn to more accurately distinguish glass particles from cracks and product defects from cosmetic issues with the container
As a result, our equipment solution significantly lowered false rejects, for all defects by 50% from FAT to site production.
AVI machine for vaccines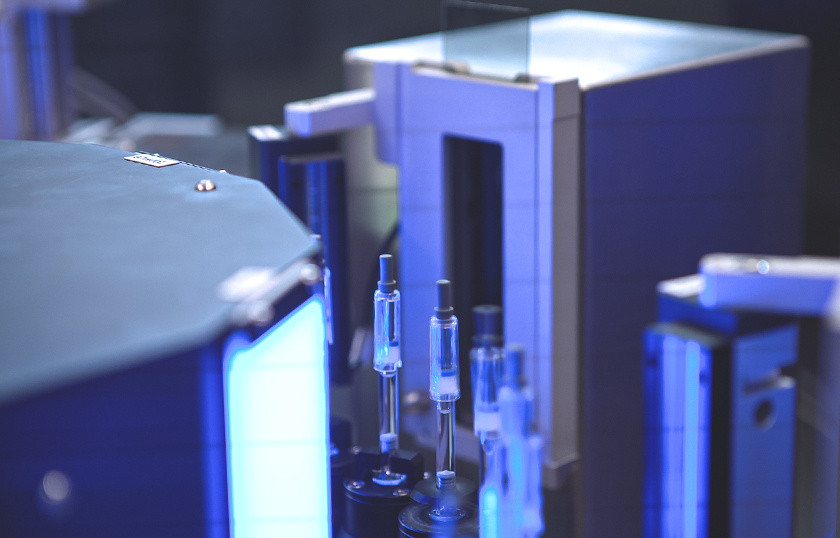 AVI machine for a highly viscous drug
A Korean biotech company engaged us to deliver an automatic machine that could inspect syringes filled with a very viscous drug at 200 pieces per minute.
The challenge
Viscous products and gels are becoming frequently used in the pharmaceutical industry for a wide range of areas. They are characterized as difficult-to-inspect products due to the increasing molecular weight and concentration of the drugs themselves.
Discover how we approached this case
The solution
After accurately evaluating the product, the container and the defects the customer wanted to identify, our team designed and manufactured a machine featuring advanced inspection technologies to ensure the optimal detection of cosmetic defects and particles.
Scratches are quite frequent in POC syringes, and the pharma companies are extremely sensitive to cosmetic defects. By adjusting the lighting patterns and using trajectory algorithms, we were able to identify even the thinnest scratches and distinguish them from small particles, such as white fibers.
With the same acumen, we leveraged our expertise to find the best-suited technique to spot particles. When dealing with a highly viscous product or a gel, inspection can't rely on spinning the liquid to move the contaminants and using the motion as a differentiator when the container stops in front of the camera. For this reason, we rotated the container 360° degrees to track all the potential particles visible.