As part of a turnkey solution, including assembly and packaging equipment, this unit covers the case packaging and palletizing.
Highly automated packaging and palletizing line
The solution
A large robot palletizer with a multi-functional gripper ensures the secure and flexible transport of trays and shipper boxes between processing stations. The secondary labelling module is based on a labelling platform, with a high capacity labeler. In- and out- feed of product is handled by agile flex pickers.
Highlights on the layout
Flexible packaging machines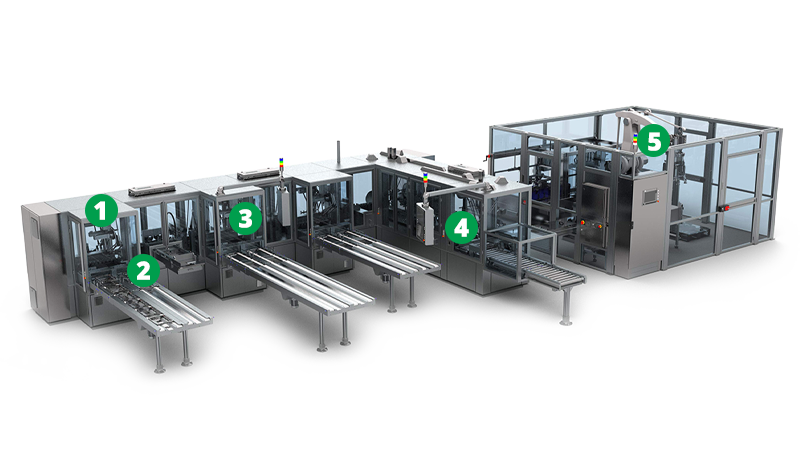 Machine platform
Smart transport system with independent carriers for optimal process flow | Optimal accessibility and clearance | Low maintenance
Infeed
Automated tray de-stacking, emptying and re-stacking | Pitch adjustment | Gentle and efficient cartridges separation
Assembly&Dial
Product tracking and verification with local rejects | Each step is monitored via cameras, force positioning, sensors
Marking and Labeling
Embedded laser marking and code verification | Labels verification prior to application | Local reject stations
Packaging
Compact layout | Precise and smooth handling | High flexibility | Label print, apply and verification | Case packing, marking and palletizing