Our journey into the pen injector industry began in the mid-1990s and over the years we have gained a thorough understanding of the market. Recently Merck Serono approached us to design and manufacture a mid-high speed line assembly and packaging line for their site in Bari, Italy. A high level of automation and precise inline controls were required to assemble and package their fertility pen according to their standards.
Pen assembly based on BasiQX XTV platform
The solution
Based on Stevanato Group's BasiQX XTV platform featuring a linear motion transport system, engineers designed an efficient and flexible assembly with a smart layout. 
The system allows for multiple programs to be run sequentially on the same line, facilitating shorter lead times to assemble new sets of components with different features. The equipment is designed for an overall capacity of 70 devices per minute and all products are inspected within infeed modules before entering the assembly line. The line performs inspections using vision technology and sensors. Rejects are handled automatically and monitored throuout the system. Pens are labeled and placed in trays for the final production phase.


Pen Injector Assembly Line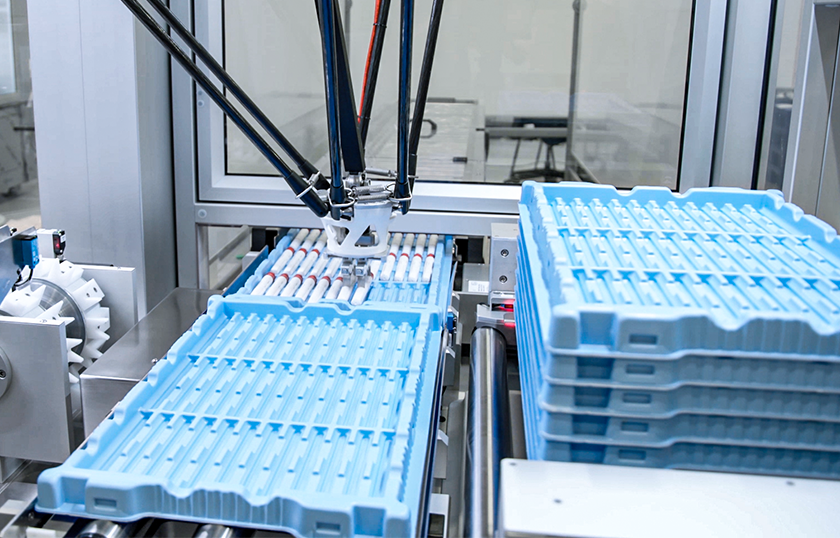 The line is also equipped with a palletizing unit. A large robot palletizer with a multi-functional gripper ensures the secure and flexible transport of trays and shipper boxes between processing stations. The secondary labelling module is based on a labelling platform, with a high capacity labeler. In- and out- feed of product is handled by agile flex pickers.
Main Features
Flexibility
3 pens with 12 different doses assembled on one line
Safety
Individual priming to ensure proper dosage
Quality
100% inline controls: 8 key parameters controlled to meet the highest standards
Efficiency
Only defective components are rejected
Main Features
Flexibility
3 pens with 12 different doses assembled on one line
Safety
Individual priming to ensure proper dosage
Quality
100% inline controls: 8 key parameters controlled to meet the highest standards
Efficiency
Only defective components are rejected
Highlights on the layout
Flexible packaging machines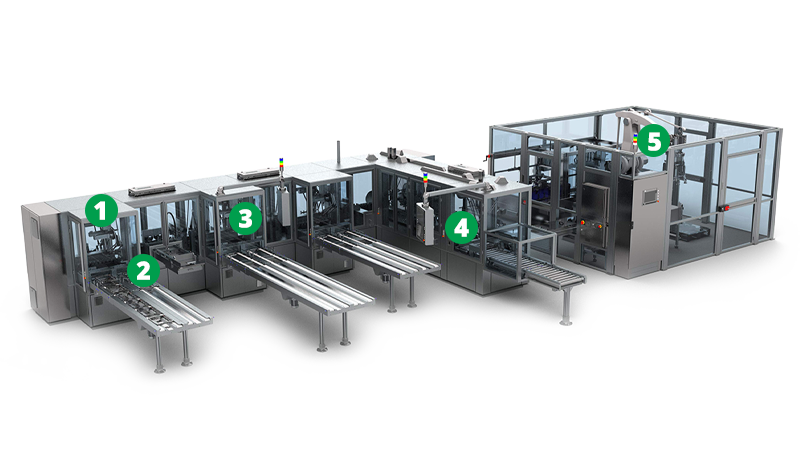 Machine platform
Smart transport system with independent carriers for optimal process flow | Optimal accessibility and clearance | Low maintenance
Infeed
Automated tray de-stacking, emptying and re-stacking | Pitch adjustment | Gentle and efficient cartridges separation
Assembly&Dial
Product tracking and verification with local rejects | Each step is monitored via cameras, force positioning, sensors
Marking and Labeling
Embedded laser marking and code verification | Labels verification prior to application | Local reject stations
Packaging
Compact layout | Precise and smooth handling | High flexibility | Label print, apply and verification | Case packing, marking and palletizing
Want to know more about this line packaging equipment? Click here
See also
Nasal Sprays
Discover how we solved the challenge to deliver a high-speed inhaler assembly line for an emergency lifesaving device
Injection Pens
This pen assembly line was designed to adapt to future program changes and production demands
Nasal Sprays
Discover how we solved the challenge to deliver a high-speed inhaler assembly line for an emergency lifesaving device
Injection Pens
This pen assembly line was designed to adapt to future program changes and production demands