A leading international company tasked us with designing and manufacturing a line to inspect and package their product: a high-value vaccine stored in syringes. Ensuring optimal production flows and avoiding costly losses were critical goals for the customer.
The solution
Cutting-edge technologies for a cohesive solution. All from one source.
Acting as a full-solution partner for the pharmaceutical company, we delivered a line featuring integrated units that ensure a flawless production process from handling after filling up to palletizing. The system comprises a high-speed automatic inspection machine, a state-of-the-art denesting and renesting unit, and highly automated end-of-line equipment. 
Operators can work safely and their activities are facilitated by the common interface: each HMI controls the entire line.
At first, an automated buffer stores the syringe Nest&Tubs, maximizing progress towards the denester. The FIFO programming, requested by the customer, ensures the correct product flow throughout the line. Another buffer after the renester station also helps achieve a high OEE and optimize the manufacturing process.
Case_MSD_6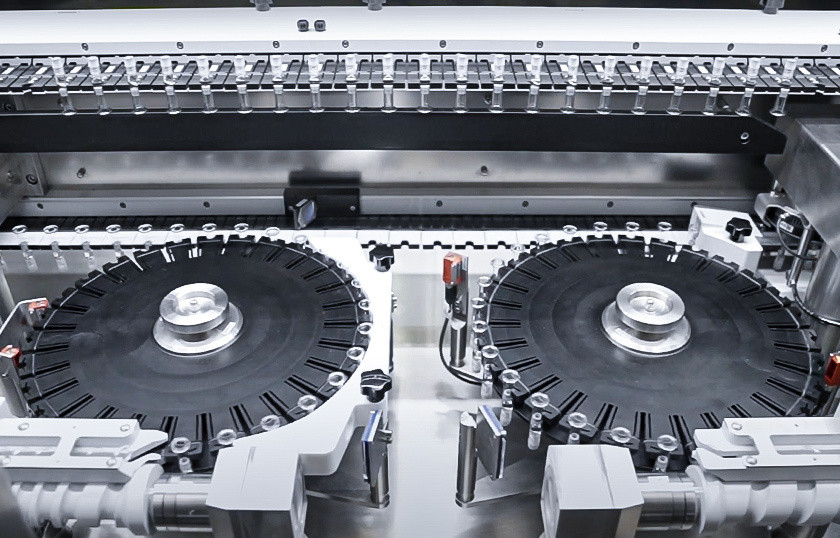 As part of our strategy to deliver best-in-class solutions and maximize the customer's productivity, we engineered CVT Nest. This 3-in1 system combines the high-performance CVT Automatic Vision Inspection machine with the Nestor, De-nester and Re-nester units. The turnkey solution features an extremely compact layout and presents some important features to ensure high-quality standards, such as no glass-to-glass contact, thus preventing costly product losses or container breakages. The syringe inspection machine efficiently inspects the containers, running up to 39,600 units/hour.
The sealing and packer modules are programmed to ensure tight inline controls via different cameras and enable continuous production: for instance, the operator can safely recharge the lids without stopping the machine.
Finally, in the highly automated palletizing area, the tubs' smart handling enables the creation of neat and stable pallets. Optimal production flow and maximized productivity are key elements of this line right to the end, where a robot alternates between two pallets as it deposits the finished items - ensuring non-stop production and accurate packaging of the syringe Nest&Tubs.
Highlights on the layout
Layout_AVImsd_MB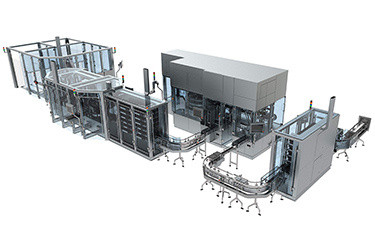 Buffer
Optimal production flow ensured throughout the line | FIFO method enables oldest items to exit the process first
Buffer
Optimal production flow ensured throughout the line | FIFO method enables oldest items to exit the process first
Automatic Inspection Machine
Clip wheel and clip belt technology for gentle container handling | Microbubbles suppression thanks to individual rotation units | Two correlated particle inspection stations and oscillating mirror on each station for high DR and low FRR
Sealing and tamper-evident
7 tubs (100 syringes) per minute are controlled before entering this area  (syringe presence and flange integrity) | Smart layout allows the operator to load lids without stopping the machine | Label printing, application and verification
Palletizing
Compact layout | Highly automated system | Optimized palletizing configuration | Double exit area for continuous production