Needle assembly at its finest
Leveraging our knowledge in glass primary packaging and automation equipment, we have engineered two different models of needle assembly machines, both geared towards ensuring ease of use, lowering equipment footprint and saving energy.
The machines are engineered to insert and glue the needles in the glass barrel. A camera inspection system controls both cosmetic and dimensional standards.
Glass Processing - Needle Assembling - ASA
ASA36
The ASA36 is a flexible off-line machine ideal for assembling a wide range of needles and syringes.
The machine comes with an automatic de-blistering system for the syringe infeed and an automatic blistering machine for the syringe outfeed.
The system is equipped with a complete range of inspection systems for the adhesive, needle and glass syringe.
Features
Processes up to 52 pieces per minute
UV lamps for curing of the glue
Dimensional and cosmetic inspection system performed by a dual-camera system
Needle oscillation and tip integrity
Total length of the syringes with needle
Glue inspection
Flow test to measure the air flow through the needle
Advantages
Easy set-up
Automatic blistering and de-blistering machine
High-precision pick-up device
Needle loading system with servo motors
High number of stations for a broad range of syringes/needles
High processing speed and repeatability
Flexibility to suit a wide range of needles and syringes
Integrated with fully automatic control system
needle assembly machine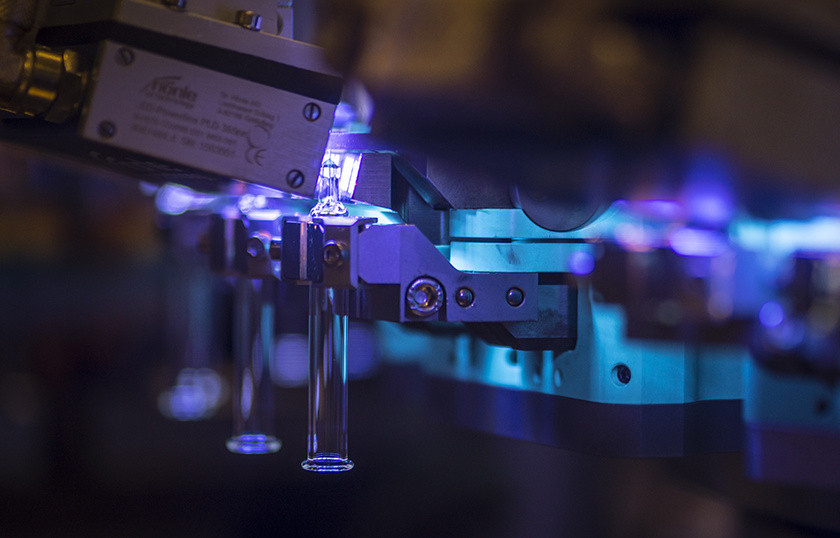 NAM
The NAM is a very compact needle assembly machine that can operate both in-line and off-line, in ISO 8 clean rooms. NAM features improved process quality, high throughput (up to 120pieces/min) and a more efficient cosmetic and dimensional inspection.
These results are achieved thanks to:
An LED-light curing system, ensuring reduced energy consumption and improved glue polymerization
1 dedicated carousel for each of the performed operations: needle insertion; glue curing; dimensional and cosmetic inspection
Dimensional and cosmetic inspection based on a high-precision camera system with the rotating syringe (needle oscillation; needle tip integrity; total length of the syringes with needle; glue inspection)
Features
No glass-to-glass contact
No glass-to-metal contact
Dynamic buffer at infeed
360° inspection of containers
Needle magazine loading while the machine is running
Maximum accessibility to testing, maintenance, cleaning, batch and format change
Advantages
LED curing, energy saving, low maintenance and cost-convenient spare parts
All movements are servo-controlled
Reduced number of mechanical parts
Limited number of format parts
Inlet and outlet sampling station
Needle magazine loading while the machine is running